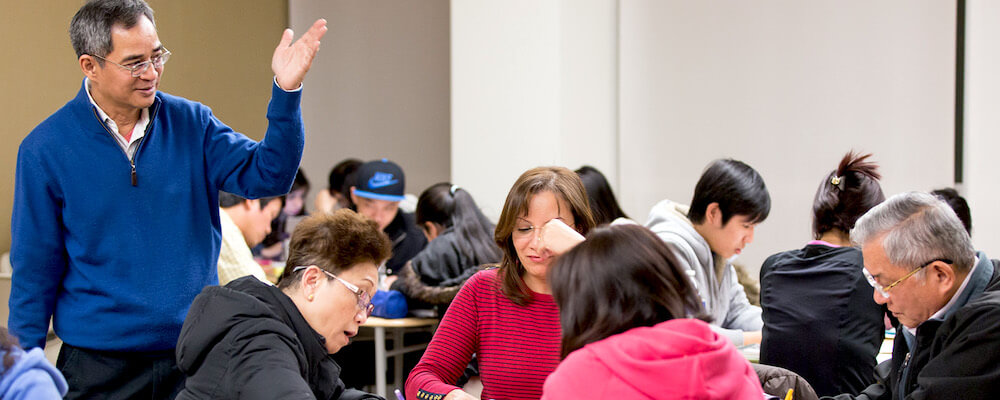 Noncredit ESL Program
Noncredit ESL is for beginning and low intermediate level learners of English. Our classes are offered in the day and evening. We offer both online and on campus classes. Students who are at the intermediate or above levels of English should enroll in the ESL credit program. Noncredit classes are free. Students may need to purchase a textbook.
Begin learning English right away.
Improve English skills and later enroll in Credit ESL.
Improve English skills to get a job or a better job.
Communicate better in English in everyday life.
---
Noncredit ESL

The noncredit ESL program offers courses for low beginning, beginning, high beginning, and low intermediate level students. Study reading, writing, listening, speaking, pronunciation, grammar, and vocabulary Daytime, evening, and online classes are available. Courses are free.
Course Placement
Noncredit ESL students are not required to place themselves using the ESL online placement tool. However, we recommend that students who feel they have intermediate-advanced skills complete the online placement.
We currently have four noncredit levels 910 (low-beginning), 920 (beginning), and 930 (high beginning) and 940 (low intermediate). The 910 and 920 courses provide instruction in all skill areas during the class time (listening, speaking, reading, grammar, and writing.)
The 930 and 940 courses are more academic in nature, and each course provides instruction in a specific skill area.
Students may select the class they think will best fit their needs. The course teacher can also recommend that a student move to a higher or lower level class if needed.
---
Fees and Financial Aid
Noncredit courses are free. There is no tuition cost. Students may need to purchase class textbooks, supplies, and any other materials they will need to succeed in class.
There is no financial aid available for noncredit textbooks or supplies.
---
Class Attendance
We take attendance in class every day. Students must plan to attend all of the class meetings for the semester. Coming to every class, participating in class activities, and practicing outside of class are all important for successful learning.
---
Grades and Transfer Credit
Grades in noncredit ESL courses are P (pass), SP (satisfactory progress), and NP (no pass). No academic credit is awarded. However, we do offer noncredit certificate programs! Students who finish all the required courses in a program can apply for a noncredit ESL certificate from Mission College.
---
Bookstore
The College Bookstore is located on the first floor of the Campus Center building. You can purchase all the books and materials you need for class here, as well as snacks and drinks. Hours for the bookstore are located on their website.
---
Parking on Campus
Students need to purchase a parking permit in order to park in any campus parking lot. You can purchase a semester-long parking permit online. You can also get one in person at the Admissions & Records window in the Student Engagement Center.
---
Frequently Asked Questions
Q: When do the classes start and end?
A: We follow the regular Mission College calendar.
Q: What documents are required? What if I have a visa?
A: No documents are required other than information needed to complete the Mission College Noncredit Application
Q: Do I need to attend the college orientation?
A: No. It is not required for noncredit ESL students.
Q: I can't attend every class because of my job. Is that OK?
A: Students need to plan to attend every class meeting. If you need to be absent on some days, please inform the teacher. However, if you need to be absent regularly, we suggest you find a different class time that will work better with your schedule.
Q: I am not a beginning or low intermediate learner of English. I've taken a lot of English classes in the past. Can I take the noncredit ESL classes?
A: Students may enroll in any class they desire to take. However, the class textbook, homework, and topics will stay at the class level. Most students with higher skills usually decide to take credit ESL in order to reach their personal and/or academic goals faster.
---
Help with Homework
The Tutoring Center is located on the first floor of the Student Engagement Center, in room 154 and online in Canvas. Students may get help from trained peer tutors during day and evening hours. The tutoring center offers online tutoring.